Watch Nymphomaniac: Volume I
---
"Forget About Love"
Nymphomaniac: Volume I chronicles the first part of the story of a woman, Joe, that was found beaten and left in an alley by an older man, Seligman. After being saved by Seligman, Joe begins to tell the tale of how she came to be found in the alley. And to do that, she starts from the very beginning of where she self-proclaims herself to be a nymphomaniac. Being the lonely old man that he is, Seligman is fascinated and intrigued by Joe's tales of eroticism - often drawing parallels to the great lives that he's learned about during his well-read time on Earth.
|
2014
|
1 hr 57 min
|

/

10
Cast

Studio

Director

Lars von Trier

Language

English
Nymphomaniac: Volume I News
Sia's Shia LaBeouf Music Video Sparks Pedophilia Complaints
January 08, 2015 @ 2:50 pm PST
|
Read More

Weekend Box Office: 'Divergent' Performs as Advertised, 'Muppets' Disappoint, 'God Is Not Dead' Comes Alive
March 22, 2014 @ 10:14 am PST
|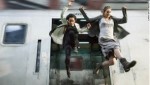 The success of "Divergent" over the weekend was not unexpected, but the performance of a couple of other new movies provided some surprises. The lessons we learned: don't put too much faith in frog puppets, and don't underestimate the ticket-buying enthusiasm of religious "Duck Dynasty" fans.
Read More

Shia LaBeouf Claims a Woman Raped Him During Silent Performance Art Show
November 28, 2014 @ 10:06 am PST
|
Read More


Watch Nymphomaniac: Volume I Trailer

Nymphomaniac: Volume I
|
0:02
Nymphomaniac: Volume II Official Trailer #1 (2014) - Shia LaBeouf, Willem Dafoe Movie HD
|
1:47

Watch Nymphomaniac: Volume I Online - Watch online anytime anywhere: Stream, Download, Buy, Rent
Nymphomaniac: Volume I is currently available to watch and stream, download, buy, rent on demand at Tribeca Shortlist, FlixFling VOD, Amazon, FandangoNow, iTunes online.