Watch American Pie
---
"There's nothing like your first piece."
1999's American Pie was the first entry in the long-running series, and is often considered by critics to be the best of the bunch. The first in a short wave of raunchy turn-of-the-millennium teen sex comedies, American Pie combines an over-the-top sense of humor with a surprising amount of earnestness, earning it a unique place in the pantheon of gross-out comedies. While the humor within is certainly crude and often childish, the unique take on the story helped to re-establish a genre and launched the careers of several young stars.
The movie's plot cribs from the best of the 1980's and 1990's, featuring four friends who make a pact to lose their respective virginity before the end of the school year. Among the group are Jim (who has his eye on foreign exchange student Nadia), Kevin (who struggles with relationship issues), Oz (a jock without a girlfriend) and Finch (the oddball). The four are joined by other memorable characters to create a romp through high school that is at times incredibly overdone and at others remarkably honest. One of the first films of the era to bring back extreme language and nudity to teen comedies, it plays faster and looser with many of the rules of film-making than those that would come after it.
The plot manages to take the boys from high school parties to the senior prom, with various stops along the way to examine both their friendships and their relationships. A variety of escapades happen along the way, including a memorable scene with the titular pie. Though one might be surprised by the manner in which things turn out in the end, following the plot is easy enough that one can step into the movie even at the halfway point and still figure out what is going on. It may not be the most plot-dense film every made, but it still brings the laughs.
This first film in the franchise is possibly better known for its side characters than its main stars. Seann William Scott as Stifler and Alyson Hannigan as Michelle certainly stand out, and a variety of other stars (including John Cho) can be seen early in their careers during this film. The combination of great acting and a unique script help the movie to stand out in a field of imitators, and those who have never seen the movie are certainly in for an experience that will be hard to forget.
|
1999
|
1 hr 35 min
|

/

10
Cast

Studio

Director

Chris Weitz, Paul Weitz

Language

English
American Pie News
Jason Biggs Apologizes for Tweeting Joke About Crashed Malaysia Airlines Flight MH17
July 17, 2014 @ 4:24 pm PST
|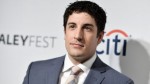 This might be the very definition of "too soon." Jason Biggs, known for his roles in the "American Pie" series and "Orange is the New Black," is facing some serious criticism after tweeting out a joke about the Malaysia Airlines flight that crashed today in Ukraine, killing all 295 people on board. "Anyone wanna buy my Malaysian Airline
Read More

Weekend Movie Trailers and Reviews: 'Titanic 3D' Aims to Sink 'American Reunion'
April 05, 2012 @ 3:07 pm PST
|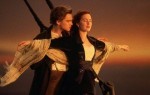 The unsinkable ship meets the unstoppable sequel machine this weekend as "Titanic 3D" and "American Reunion" go head to head. Are either of them worth seeing? Click through to watch the trailers and get reviews.
Read More

'How I Met Your Mother''s Alyson Hannigan Gets New Series
February 15, 2014 @ 8:05 am PST
|
If you've been bracing yourself for a severe lack of Alyson Hannigan after the end of "How I Met Your Mother" this season, it might be time to relax. The actress has signed on to star in a new pilot being produced for CBS by Matt Damon and Ben Affleck.
Read More

Invisible Children Reps Not Happy About Jason Biggs Parody
March 23, 2012 @ 12:01 pm PST
|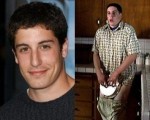 When it comes to making a mockery of the semi-disgraced viral-video sensation of the moment....everyone's a critic. Actor Jason Biggs recently parodied Invisible Children co-founder and creator of the viral activism sensation "Kony 2012" Jason Russell's crazy, naked street-corner rampage in Chicago. Doing so left a sour taste in the mouths of Russell's peers, according to The Hollywood Reporter.
Read More


Watch American Pie Trailer


Watch American Pie Online - Watch online anytime anywhere: Stream, Buy, Rent
American Pie is currently available to watch and stream, buy, rent on demand at Google Play, iTunes online.